The spooky season is about to turn over to my favorite, the holiday season! Even when I worked in retail, I loved the holiday season. I love the bows, wrapping gifts, everything being shiny and peppermint ice cream and the ultimate-chocolate oranges. (Seriously, this is bribe-worthy.) Because I stay overly busy, I never get to send snail mail, but I get to drool holiday envelope art on pinterest, so here are some of my favorites.
Colorful and Funky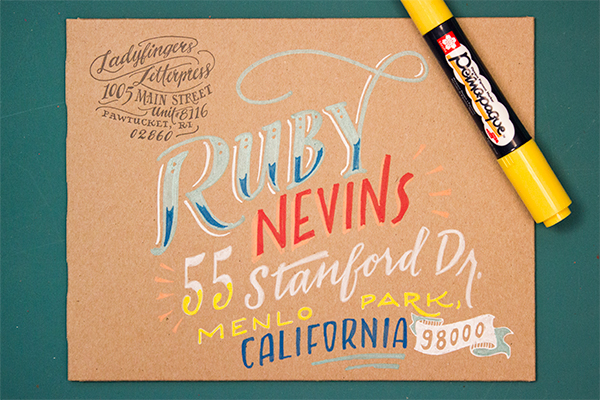 Source: https://ohsobeautifulpaper.com/2014/05/envelope-address-hand-lettering-tutorial/
This envelope is seriously so much fun. I love the colors and how big all of the lettering is. Imagine this in gold and red for the perfect holiday look!
Simple and Cute
Source: pinterest.com
Unfortunately, the link to the actual DIY takes you to a 404 page, but from this image, it looks like a stamp and doodling combo. And it's absolutely adorable. An easy stamp can be made from rubber you get at a craft store, but you can certainly draw the tag in, as well.
Classic Holiday
Source: https://thepostmansknock.com/catalog/holiday-mail-art-envelope-templates/
The queen of envelopes, in my opinion, is The Postman's Knock. She comes up with some gorgeous designs and sometimes you just have to go literal. I love the line of lights, the gorgeous painterly tree, and the beautiful calligraphy.
Want some beginner lettering tips? Read this blog post for my top tips.
Don't Forget the Liners
Source: papermint.me
Liners take your letter or card to a whole new level. And they are super easy, find some scrapbook paper you love and you can cut it out to fit in your envelope. I've picked up some templates from Paper Source which helps a lot when you're in a hurry.
I hope you all found some of this inspiration fun and maybe this year, I'll check off the "send Christmas card" task on my to-do list!